Save this page & share this page link
1st Day of Hampi Route Map
If you are starting the tour morning around at 6 AM to 7 AM like that then only start with Matanga Hills or else skip that and start with Virupaksha Temple.
1. Matanga Hills (Sunrise Point)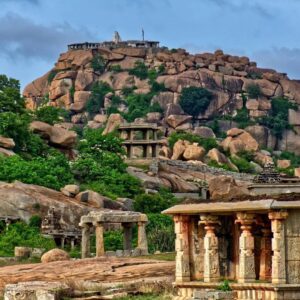 Out of all the places to visit in Hampi, Matanga Hill is the one which is most talked about. It represents the highest point of Hampi, and it's a picturesque destination for the travel photographers to capture some aerial vies of Hampi.
North portion of this hill terminates into Tungabhadra river where you have another religious place to visit-Kodanda Rama temple. Towards the south of this hill, you have a twisting valley with a zigzag Turthu canal. Low-lying Northern section exhibits a trekking trail that connects straightaway to Hampi bazaar.
Location: 8FJ9+M83, Hampi, Karnataka
Timings: There are no specific timings to climb on the Matanga Hills. However, tourists make it a point to climb this hill early in the morning to capture the allure of sunrise and carry ahead with their downward journey in the evening after sunset.
Price: Climbing Matanga Hill is absolutely free of cost.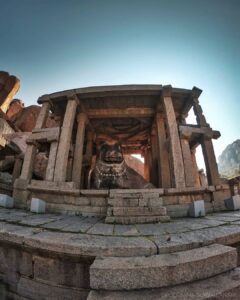 Situated at the east end of the Hampi Bazaar, the Monolith Bull or Nandi is a grand piece of ancient architecture that is housed in a two-story pavilion. This huge structure, which mythologically is the vehicle of Lord Shiva, is placed just opposite to the famous Virupaksha Temple.
This Monolithic Bull, although partially mutilated, exhi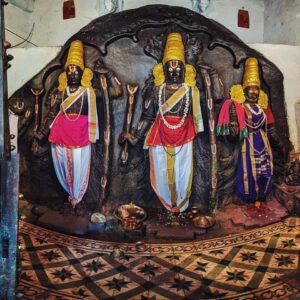 Kodanda Rama Temple, Hampi, is located on the right bank of river Tungabhadra. It's said that the temple has been here since the Ramayana times.
The rectangular Garbhagriha of the temple has tall deities of Lord Rama, Lakshmana, Sita and Sugriva carved out from a single natural boulder on the hill side – supposed to have been carved by Sugriva himself!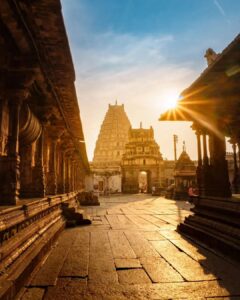 The temple is so constructed that its main entrance faces east and homes to two courtyards. No sooner you enter the temple, there is a statue of Nandi with three heads. There is a pillared hall in the center which is reckoned as the Ranga Mandapa.
In case you are an international traveler, you have to register yourself at a police outpost with all your essential details. Mostly, this temple remains crowded in December; whereas it celebrates its annual festival in February and it is one of the best places to visit in Hampi.
Location: South banks of Tungabhadra river, Hampi, Karnataka 583239
Timings: Virupaksha temple is open for the visitors from morning 8:00 am to 13:00 pm. After about 4 hours, again the doors are open visitors from 17:00 pm to 21:00 pm.
Price: There are no entry fees. However, you can hire a guide to give you complete information about the temple at its footstep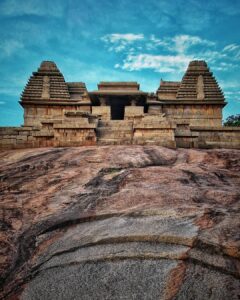 Hemakuta Hill is a vastly stretched zone offering an astounding view of the sprawling ruins, temples, and archways. This is the next best place to watch the sunrise and sunset as tourists find it easier to reach to its top position.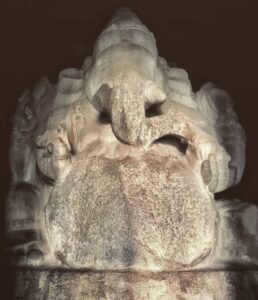 Homing to one of the largest statues of Hindu deity Ganesha, Kadalekalu Ganesha temple is the famous holy shrine of South India. It is situated on the slopes of well-known Hemakuta Hills, and its towering statue is about 4.6 meters high.
The temple features a statue carved out from a single massive stone, and the belly of Lord Ganesha resembles a Bengal gram. Entire hall of the temple homes to slender granite pillars and exhibit fictitious characters. The carvings of these pillars reflect the Vijayanagara architectural style of art.
Location: 8FM6+4FQ, Hampi, Karnataka 583239

Timings: You can visit this shrine of Lord Ganesha from morning 06:00 am to evening 06:00 pm.

Price: There are no entry fees to lead your way to this Kadalekalu Ganesha temple.
7. Two-Storeyed Mantapa (Double-Storeyed Gateway)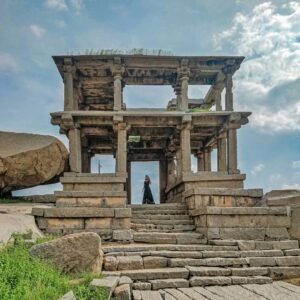 This huge two-storeyed mantapa (double-storeyed gateway) in the south west of the Vitthala temple is located on the right bank of the river Tungabhadra. It is raised on a grand sheet rock close to the fortification wall here. The gateway passes through a pathway leading to Hampi from the Vitthala temple. Its adhishthana is high with five plain mouldings. All the pillars are plain. At its south side this monument is f1anked by two small single-celled shrines, while nearby are a several other shrines.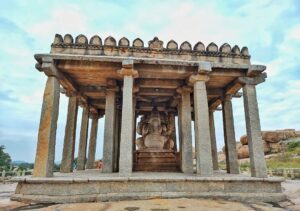 This Lord Ganesha's statue derives its resemblance from that of the mustard seed, which is referred to as Sasivekalu in the local dialect thereby leading to its name. This statue is located on the Southern foothill of the Hemakuta and is almost half the size of Kadalekalu Ganesha located on the Northern slope of the same hill.
This statue derives inspiration from an incident of Hindu mythology when one day Lord Ganesha had eaten so much food that his stomach almost burst. So in order to protect his stomach the Lord tied a snake around his belly. On this statue one can see the figure of the snake carved in front of his stomach.
This monolithic statue measure 2.4 metres in height and is carved out of a huge boulder. There is an open pavillion built around the statue, which is believed to be constructed by a trader from Chandragiri (present day Andhra Pradesh) in the memory of Narsimha II the mighty Vijaynagara king. Similar to the Kadalekalu Ganesha Temple, this temple too is considered to be one of the important places to visit in Hampi.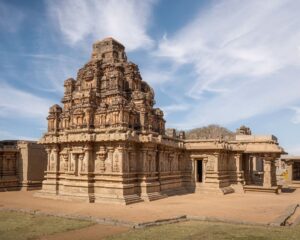 Built by Krishnadevaraya, Krishan temple of Hampi is the sign of Orissa campaign's success. This temple is amongst those hand-picked places to visit in Hampi which are globally reckoned for their exquisite carvings.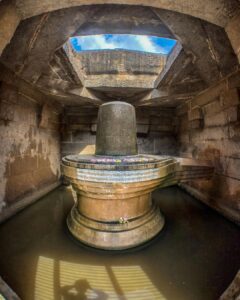 Badavilinga Temple is a beautiful temple of Lord Shiva and one of the most visited Hampi tourist places. It lies close to the Lakshmi Narasimha temple and homes to a beautiful Linga carved out of a black stone.
11. Lakshmi Narasimha Temple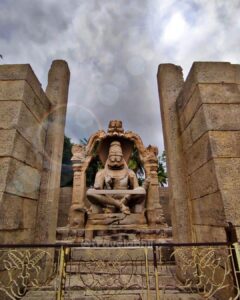 Most significant of all the religious statues in Hampi, Lakshmi Narasimha Temple is the amongst the next best Hampi tourist places to visit. Here, the figure of Lord Narasimha sits on a coil of a snake with seven heads in a Yoga position.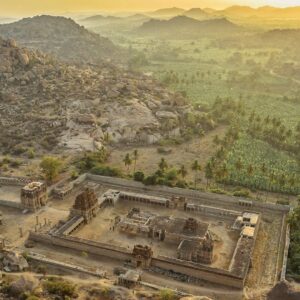 The last one to go down in the list of places to visit in Hampi is the Achyutaraya Temple. This temple lies amidst the Matanga Hills and Gandhamadana.
This temple exhibits Vijayanagar's architectural elegance and homes to a beautiful idol of Lord Tiruvengalanatha. All towers, pillars, and walls of this beautiful temple are exquisitely carved and ornamented. The main shrine of this temple is situated amidst a rectangular concentric structure.
13. Sister's Stone(Akka Thangi Gudda)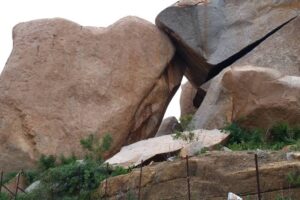 These are two giant boulders leaning against each other, making an archway like formation. You can find them on the left side of the main road when you go from the Underground Shiva Temple towards Hampi village square. The road almost passes through under the stones. Akka-Thangi Gudda means 'sister stones' in the local language.
14. Vijaya Vittala Temple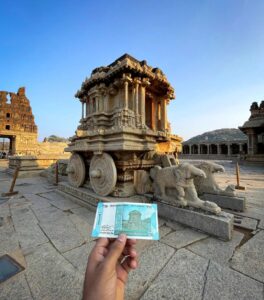 Vijaya Vittala Temple or Vijaya temple of Hampi amongst the ancient Places to Visit In Hampi worthy of visiting. There are fantastic stone structures all around, and the pillars here appear as if they are playing music.
This is true architectural excellence of Hampi as it exemplifies remarkable creativity and the beauty of architecture's imagination. The architecture of this temple dates back to the Dravidian era and reflects South Indian traits.
15. Sunset Point (Malyavanta Raghunathaswamy Temple)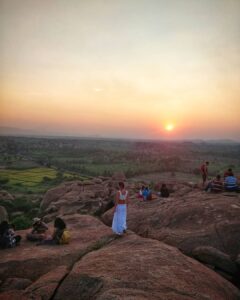 Great place to visit towards evening as you can watch beautiful sunset and the breathtaking views from top of this small hill. vehicles will go up to the hil where the temple is located. Climbing to the top of the hill would be for about 10 mins
2nd Day of Hampi Route Map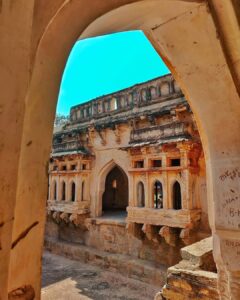 Reckoned as a large bath of Hampi, Queen's Bath exemplifies the Vijayanagara's architectural excellence. It lies close to one of the most awful places to visit in Hampi- the Royal Enclosure.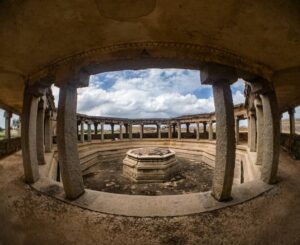 Not to confuse this with the Octagonal Water pavilion you may find on the main road to Hampi. This structure, as the name indicates, is a gigantic bathing area made in the shape of an Octagon. The bath shelter is designed with an octagonal shaped platform at the middle and an encircling pillared veranda around it. The circular section between the veranda and the platform is the water (now empty) area. To the west of it you can spot the ruined bases of numerous palaces.
3. Mahanavami Dibba / Dasara Bibba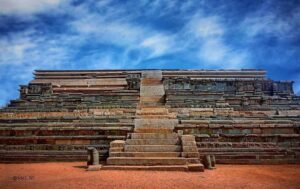 At a distance of 3.5 km from Hampi Bus Stand, Mahanavami Dibba or The House of Victory is a beautiful stone platform situated inside the Royal Enclosure in Hampi. It is also known as Dasara Dibba and is one of the most impressive structures to be visited during your Hampi Trip.
Mahanavami Dibba was built by King Krishnadevaraya in 1513 AD after his conquest over the kingdom of Udayagiri, present-day Orissa. The grand platform was used as a stage by the kings to watch the army march past, the war games, and the royal procession that were held during the Mahanavami festival, also known as the Dasara festival, hence the name Mahanavami Dibba. It is one of the most fascinating Hampi tourist places.
4. Stepped Tank(pushkarani)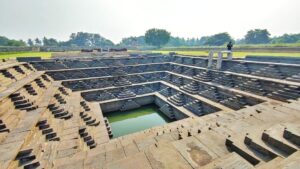 Stepped tanks here are considered to be sacred tanks for a holy bath before visiting any religious place of importance. Once a while,  they were centers for festival celebrations.
5. King's Secret Chamber, Hampi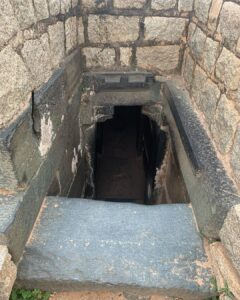 At the royal enclosure are lot of individual items.. the major ones being Mahanavami Dibba, Stepped well, and Sri Krishnadevaraya audience hall. Also, there one item which cannot be seen until you go near it.. the underground meeting room. This is supposed to be a secret underground chamber used by the king to meet his ministers and spies. The chamber is approximately 30' x 20' and 12' deep. It has two entrances with narrow passages.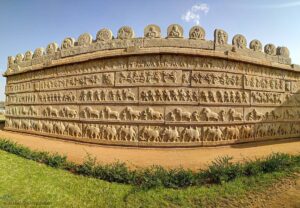 This beautiful temple marks its presence at the central focus of a royal area and is dedicated to Lord Rama. The walls of this temple are eager to illustrate the entire Ramayana flow before its visitors.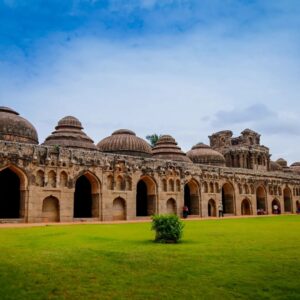 Elephant Stables is amongst the significant tourist places to visit in Hampi to witness a little to absolutely no destruction. It is a long building homing to a series of dome-shaped chambers which once were used for the parking of royal elephants.
8. Royal Enclosure(Lotus Mahal)
The present day fortified area or the Royal Enclosure of Hampi was once the seat of power of the Vijaynagara rulers. In current times this Royal Enclosure is basically a wide open ground consisting of a number of small shelters.
9. Underground shiva Temple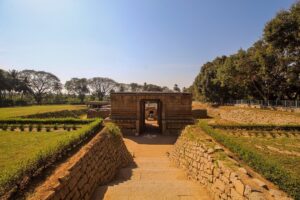 Most significant of all the religious statues in Hampi, Lakshmi Narasimha Temple is the amongst the next best Hampi tourist places to visit. Here, the figure of Lord Narasimha sits on a coil of a snake with seven heads in a Yoga position.
10. Atal Bihari Vajpayee Zoological Park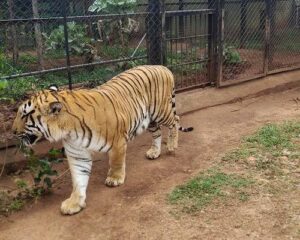 Atal Bihari Vajpayee Zoological Park is the State's Third Tiger and Lion Safari at the Ballari District. The park was launched in November 2017 and is 10 Kms from the UNESCO World Heritage Hampi. Spread across an area of 141 hectares, the park boasts of Tiger, Lion, Spotter Deer, Sambar, Barking Deer and others. Several animals like crocs, hyenas, leopard, bear, turtle, fox and langur have been shifted to the Atal Bihari Vajpayee Zoological Park from Bellary Mini Zoo.
The Zoo has more than 80 species of Birds, Four Lions and many Tigers at the Safari.
11. Pattabhirama Temple, Hampi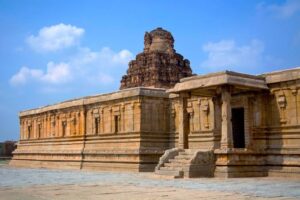 Pattabhirama Temple, Hampi
Pattabhirama Temple is a beautiful structure that stands in the ruined city of Hampi. It is located at Kamalapur at a distance of 6 km from the main heritage site of Hampi. The temple is known for its intricate architecture. It is dedicated to the Hindu deity, Lord Rama. It was a prominent destination for devotees during the period of the Vijayanagara Empire. Even today it is a popular pilgrimage center and stands as a reminder of the rich historical era.
12. Archaeological Museum Kamalapura
5. Kamalapur Lake (Sunset Point)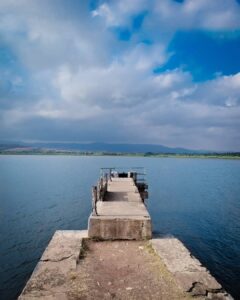 Historians say that the tank was later developed by Vijayanagar king and the greatest of the Sangama dynasty rulers, Devaraya II or Prouda Devaraya (1425-1446 CE) who named it after his principal queen, Kamala Devi.
3rd Day of Hampi Route Map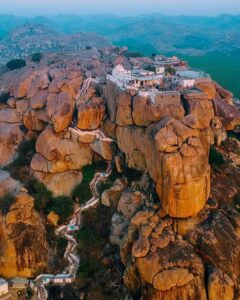 The Anjanadri Hills in lies in Hanumanahalli (which means Hanuman's village) near to Hampi, Karnataka State, India. It is the birthplace of Hanuman. According to Sanātana Dharma, Hanuman was born to Anjana and thus Hanuman was also called Anjaneya, and his birthplace Anjaneyadri (Anjana's Hill).
The hill has a Hanuman temple at the top. It has about 575 steps.
The temple has a rock-carved idol of Lord Hanuman. There are also shrines of Lord Rama and Sita and Anjana Devi temple in the vicinity.
2. Go for cliff jumping and coracle ride at Sanapur Lake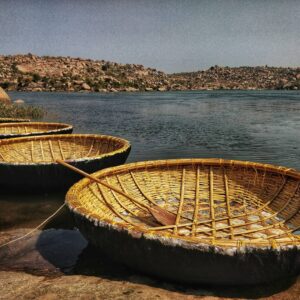 Sanapur lake is a small tranquil lake surrounded by thousands of boulders of different sizes (imagine the view)! For a different experience, take a coracle (small circular boat made up of bamboo and tree bark) ride through the lake. 
If you love adventure, cliff jumping can also be a good idea (only if you know swimming)!